Stadion (2003). Salzburg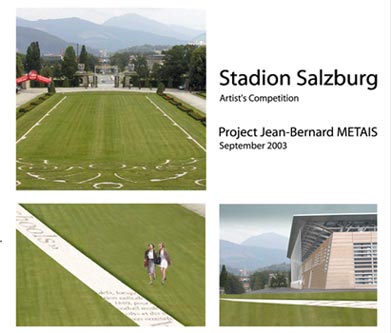 Jean-Bernard Métais, Salzburg Stadion (Proposal 2003). Salzburg (Austria).

For this project I envision a monumental circle that encompasses the stadium and its spectators. It is both a virtual enclosure and a spatial expansion of the football field, giving the game a new visual framework, a new perspective.

Emphasis is given to the stakes and tensions at play between professional players and spectators in the sports arena. The circle marks a new boundary that includes the public, as well as the athletes, in the arena of the game's entertainment value. Looking at the sport from a larger perspective, considering its commercial and media influence in today's society, is my way of playing with the game around the game.