The Ring (2008). London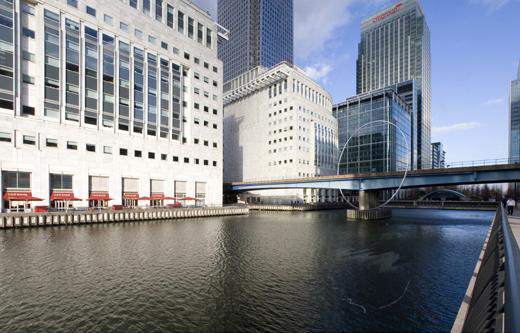 Light (projectors and fibre optics)
Ring of metal and resin, 20 metres in diameter
ENERGY, SENSE OF PLACE
When I first visited the Docklands site in March 2008, I immediately took an interest in the bridge. Its offbeat feel and 70's look, set against the mineral, contemporary architecture of the docks, spoke to me. Considering its primary, essential function of delivering people from one side to the other, the bridge struck me as being the ideal installation point for my artistic project "The Ring".
TAKING SIDES - RING AND BRIDGE, RING AND TRAIN
The idea here is to humorously suggest that the bridge is playing with a ring! The trains also play with the ring. Passers-by will see the ring do a sort of poetic dance around the belly of the bridge and the train!
The vibrant yet repetitive passage of the train over the bridge goes with the idea of man passing inexorably through the ring of time. The bridge is the deliverer, the train is man. The ring incarnates time and the world, as well as travel. Echoing the site's historical relationship to the perilous travels of seamen, the ring leans down around the bridge, restoring the site's energy, its spirit of adventure. The site is a crossroads, where the history of overseas commerce (1) meets the current activity of the business district (2).
ANACHRONISM - LINKING RING, BRIDGE AND TRAIN
The presence of the train at night, and its regular passage, are key to the project - they are the only active and fully visible elements of the site. As the trains pass through the city, they mark time, giving the site its own particular rhythm, its pulse.
The ring lights up interactively at night, reacting to the train's passage with a humorous touch. The anachronism of this apparently useless ring around the bridge generates curiosity and questioning, creating a poetic link between site and spectator.
LIGHTING TECHNIQUES
The illumination of the ring is animated by two light sources.
Each time a train passes, the body of the ring lights up via fibre optics installed within the circle's periphery.
On a more random basis, independent of railway activity, projectors will light up in a succession of cascading beams, creating a new volumetric vision of the ring around the bridge. This virtual construction and reconstruction of the ring creates an almost organic apparition, a sort of mirage of the bridge's heart.
ANCHORING THE RING TO THE BRIDGE
The ring measures approximately 20 metres in diameter, and is anchored to the pier of the bridge. It is attached to either side of the bridge platform at the level of the railings. The total weight of the ring is 2 tons.
Jean-Bernard METAIS, May 2008
Jean Bernard Metais: Projet Londres
envoyé par jbmetais. -