Sensorial Chamber (temporary installation).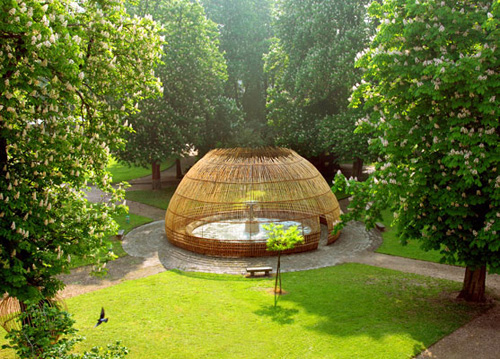 Jean-Bernard Métais, Sensorial Chamber (2006-2007). Charles Foix Hospital, Ivry-sur-Seine (France)
The objective of this construction woven around the central fountain of Charles Foix Hospital in Ivry sur Seine is to create a connection, a sensorial resonance between the location and the people present in it.
Sensorial Chamber 2006-2007 implies a reassessment of the garden that allows us to take on a new perspective of the site. It is only after spending a certain amount of time within the installation that one truly feels the presence of the big circle of the sky, the crown of trees around the fountain, and the effect of the water spiraling earth to sky, into the auditory filter of the dome.
The installation soothes with its peaceful presence. Its aim is to rekindle the enchantement of the gardens and offset the gloom of the hospital.
Wicker - Bamboo - Rattan - Metal - Height 6 m, diameter 12 m.
Commissioned by atelier K.P. 5 with the support of MAC VAL IVRY and the Conseil Général Val du Marne
Download :
88_1_fiche-web-ang.pdf
58_1_100-tempsweb.jpg
38_1_livre-sablier2.pdf
38_2_french1-.pdf
88_2_fiche-web-fr.pdf
38_4_livre-jasnieres.pdf
38_5_livre-edition-xin-dong-cheng.pdf