Place Making Bruxelles 2018-2019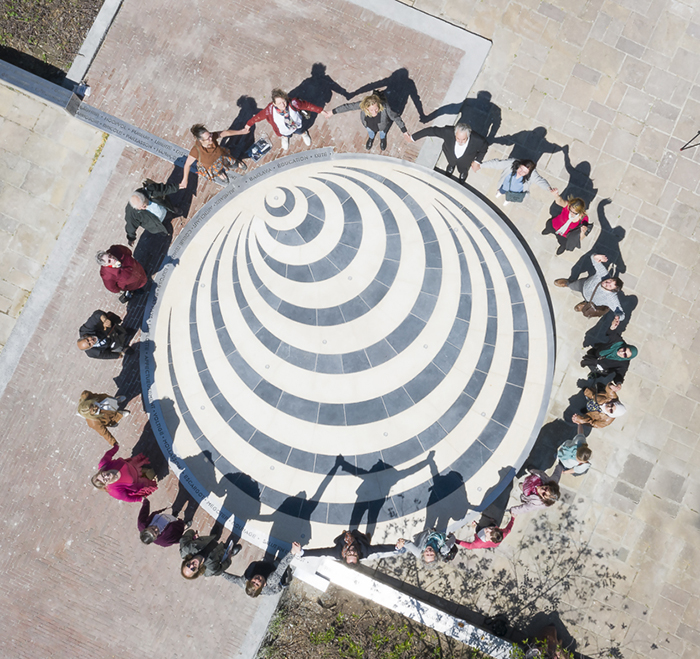 vortex babbelut - 2017/2019
projet in situ de jean-bernard métais
quartier d'été - Avenue de la Cité Modèle - Bruxellesinauguration le 15 mai 2019 à partir de midicontact: 0033 (0)6 70 80 86 83
Jean-Bernard Métais, Vortex Babbelut, 2016/2019.
Place Making (Le Quartier d'Été), Cité Modèle, Brussels (Belgium)
Since 2001, the Société du Logement de la Région de Bruxelles-Capitale (SLRB, Brussels Region Housing Company) has been developing a public art commissions program (101e%) for the Sociétés Immobilières de Service Public (SISP, Public Service Property Companies), which it oversees.
The Foyer Laekenois, which manages the "Cité Modèle", a social housing project, recently made use of this administration's 101e% program. The service commissioned the French artist Jean-Bernard Métais in 2017 to create a work of art for the exterior spaces of an area of the park under redevelopment called Le Quartier d'Été (The Summer Quarter).
Initially, the "Cité Modèle" was one of the major urban creations of the 1958 Brussels World's Fair. The utopian construction is situated near the Atomium, another emblematic creation of that era.
The first step of Jean-Bernard Métais' work consisted of meeting the local residents and inviting them to write down words related to their personal and collective experiences of the place. Secondly, the artist took those «witness-words» verbatim and integrated them into a long line of random text. Humorous statements, utopian ideas or simple questions, they are sometimes heartwarming or funny, sometimes provocative.
The work forms a line of writing across a stainless steel box-like structure. The words, punched out of the metal, are backlit at night. The line begins in the park's upper area and descends to meet a round platform below crafted of black and white stone to represent a vortex. This spot functions as a transitional space that reorganizes and opens up our vision of the place. The platform, a sort of trompe l'œil, winds the writings into it like a centrifugal force and then takes them even farther down towards the bottom of the park.
Born from the artist's complete immersion in the place and created with the contribution of local residents, this new site-specific work of art by Métais is part of his «word beings» series, a process of artistic creation he initiated in the 1990's.
Hervé-Armand Béchy - april 2019